Guest / Corinne Vionnet / Festival Images / 2016
Du 10 septembre au 2 octobre 2016
Tous les jours de 11h00 à 19h00
Une exposition du Festival Images Vevey 2016.
---
Corinne Vionnet travaille à partir d'images publicitaires trouvées sur les sites internet d'agences de voyages. Elle isole et agrandit un détail pris dans ces paysages paradisiaques de bords de mer. Ces images sont ensuite piquées de micro-perforations venant consumer et consommer le bleu du décor. Sur ces fonds bleutés, elle fait apparaître une myriade de points vides rappelant autant l'effet d'une trame d'imprimerie que le procédé des cartes perforées qui servaient autrefois à programmer, mémoriser et stocker les informations numériques. Cette série pointe le décalage entre la réalité du tourisme de masse et les vacances de rêve que s'emploient à nous vendre les tour-opérateurs, tout en questionnant le pouvoir de l'image publicitaire sur nos souvenirs et notre mémoire collective.
Plus d'informations sur:

---
Einzweidrei organise une rencontre avec l'artiste le 15 septembre entre 16H et 18H00 à l'espace.
---
Visual artist Corinne Vionnet is based in Vevey, Switzerland. Vionnet's principal concerns include questions about collective experience, memory, and how our relationships to space define our perceptions of ourselves. She is a pioneer in the exploration and re-purposing of web-based imagery. Her work includes extensive archival research, photographic image making, the appropriation of crowd-sourced material, and collage.
Corinne Vionnet's work is included in the collections of SF MOMA, Musée d'Art du Valais, Musée d'Art of Pully, and Musée français de la photographie, among others.
She has exhibited her work in solo exhibitions Danziger Gallery, New York (2015); Oslo 8, Basel (2012); and The Empty Quarter, Dubai (2009), among others. She has participated in group exhibitions at Musées d'art et d'histoire, Genève (2015-16); Musée d'Art, Sion, Switzerland (2015-16); Massachusetts College of Art and Design (2015); FotoMuseum, Antwerp (2015 and 2012); Maison Européenne de la Photographie, Paris (2013); Arts Santa Monica, Barcelona (2013); Musée Jenisch, Vevey, Switzerland (2013); Museum of Contemporary Art, Denver (2011); Musée des Beaux-Arts, Lausanne (2005), among others.
Her work has been included in photography festivals such as Images, Switzerland, Fotofestiwal, Poland; Photo Phnom Penh, Cambodia; Fotográfica Bogotá, Colombia; and Les Rencontres d'Arles, France; and at art fairs including Photo London, Pulse Miami, and Paris Photo.
Her monograph, Photo Opportunities, was released by Kehrer Verlag (Heidelberg) in 2011.
Her work has been reviewed in numerous art, photography and editorial newspapers, magazines and journals including ArtForum, Beaux-Arts magazine, The Telegraph, The Wall Street Journal, Huffington Post, The British Journal of Photography, Les Lettres et Les Arts, Images Magazine, Revista Carbono, BLOW Photo, LensCulture, COLORS, Yvi Magazine, as well as in publications including Photography Vol.4: The Contemporary Era 1981-2013 (Charlotte Cotton, et al.,New York: Skira, 2014); Art and The Internet (Phoebe Stubbs, ed., London: BlackDog Publishing, 2014) and MAO by Horizons Editions (2012).
Photo Opportunities was featured in the documentary by Arte Collection PHOTO/Les Appropriationnistes, directed by Stan Neumann and co-produced by ARTE France, Camera Lucida, Centre Pompidou, Musée d'Orsay, Bibliothèque Nationale de France. She was invited at the World Economic Forum in Davos (2013) to present her work for the conference Seeing is Believing.
Corinne Vionnet is represented by Danziger Gallery, New York and East Wing, Dubai.
---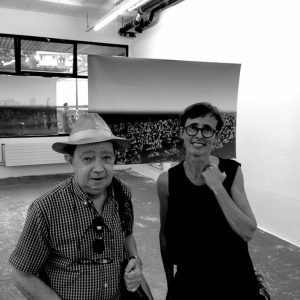 ---
---